INJEKTO 2.0 KITS
Desktop Plastic Injection Machine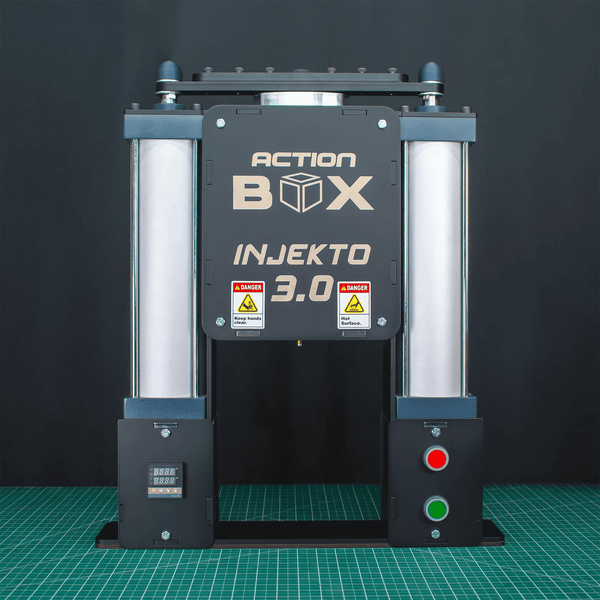 3D Printed Mold Compatible

This kit can successfully be used with 3D printed plastic injection molds.

Easy To Build

The kit is very simple to assemble, and all parts are easily connected with the included screws. 

Rigid Steel Frame

Thick steel frame resists twisting and bending under extensive injection forces.

3 Temperature Zones

Heated chamber accommodates up to 3 temperature zones for tight plasticization control.
Customer Reviews
What users are saying about INJEKTO 2.0
"Starting a small venture in my garage, I needed an injection machine that wouldn't break the bank. The INJEKTO 2.0's affordability caught my attention, but its performance and reliability earned my trust."
"As an engineering student, hands-on experience is invaluable. The machine allowed me to experiment with plastic injection and understand its nuances."
"Okay, the INJEKTO 2.0 is legit fun. From small gear parts to artsy bits, this thing does it all. Didn't expect to be this hooked on plastic molding, but I think it's my new creative obsession."
"Time's money, especially in startups. This machine speeds up my trial and error game big time. Getting the hang of making stuff faster and smarter."
"As a hobbyist inventor, the INJEKTO has transformed the way I prototype my designs. Its easy interface and controls make it a joy to work with. I can't believe how quickly I went from concept to physical prototype. Highly recommended!"
"Got this desktop plastic injection machine and, man, it's fun. Garage's like a workshop now, whipping up all sorts of cool stuff. Easy setup, endless creativity."
DIY Shredder Recycles Anything | SHREDII 5.0
After many iterations, we finally settled on SHREDII 5.0. Our most powerful shredder yet. Check out what it's capable of, and how to assemble the kit.
SHREDII 5.0 | THE MOST POWERFUL SHREDDER WE'VE EVER ENGINEERED, SOLAR-POWERED
This is the final SHREDII design, which we powered using solar powers and shredded over 1000 cardboard boxes using nothing but the sun.
SHREDII 4.0 | A POWERFUL DIY SHREDDER
⬇️ Free Design Files
We enhanced every aspect of SHREDII to create a superior design. Check out the video! Kits available for sale!
Homemade CNC Mill | Detailed Walkthrough and Explanations
A detailed walkthrough of our homemade CNC mill. Ask any questions in the comments section on YouTube!
Plastic Injection Holders For 3D Printed Molds
Used our DIY CNC mill to turn an aluminum block into a holder for resin 3D printed molds. The results were promising.
SHREDII 3.0 | Our Best Shredder Design Yet
We completely redesigned SHREDII with a dual motor system.
Being Creative With 3D Printed Molds
We made LEGO, bolts, and fishing lures using only 3D printed molds and INJEKTO 2.0.
INJEKTO 2.0 - V2 OF OUR DIY INJECTION MOLDING MACHINE
We made a V2 of the original INJEKTO machine and it works MUCH better. Check it out! 
DIY Shredder Recycles 3D Printed Waste and Injected Into Molds
We made a shredder that can recycle bottles and 3D printed scrap to be used in our plastic injection machine, INJEKTO 2.0.
Homemade Foundry to Recycle CNC Metal Scrap
⬇️ Free Design Files
We made a foundry that can recycle all the metal scrap in our machine shop into clean bars.
DIY Injection Molding Machine
We made a tiny injection molding machine and called it INJEKTO. We are currently working on V2 and plan to sell kits. Stay tuned!
RTV Silicone - Best Way To Make Parts At Home
We created our own parts using RTV silicone molds.
DIY Wire EDM Machine
⬇️ Free Design Files
We made a Wire EDM attachment for an old CNC machine.
DIY Plastic Injection Machine
We built a desktop size automatic plastic injection machine.
Action BOX Blog
Everything You Need To Know About Our Products
Help Fund Our Future Projects